안녕하세요 !
But after I'd already showered and now, I feel fresh...
Before feel sleepy, I should facebooking, twittering and blogging..
Gonna post something randomly about me and my beloved, Eunhyuk =)
Eunhyuk again ? Yes ! because I'm so in love with him...
Well, this post is something that I already told in the previous post...
But, I'm just say it...
So, today I'm gonna post the picture...
Eunhyuk in my Iphone =)
Eunhyuk in my ID card =)
Eunhyuk as my laptop background =)
Eunhyuk as my Default Picture in my Facebook =)
Eunhyuk in my dream =)
Hahahaha...
Mianhae chingu ! please just accept me being pervert...
Because my friends Yura and Sunhi already give me a nickname called Pervert Kim !
I'm not angry with it..but I like it..and I dunno why...
How do I know ? because he is my boyfriend..and I should know about it =)
Hahaha...I think if Eunhyuk read this..should he make a face like this ?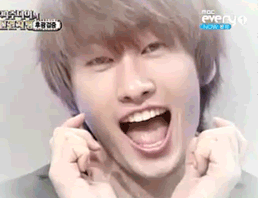 Hahahaha xD Okay okay !
I need to sleep now or I'm gonna be late for work tomorrow..
Ouh god ! Please turn up my spirits to work...I'm begging you !
Btw guys, good night and love you =)
---
You read ? Thank you very kamsa !
---