안녕히세요 !
Oooyeahh ! Hari ni I tak keje..
Malas ! Penat ! Benci nak keje kat situ !
Eh eh ! takde la.. I'm just kidding...mane ade malas la...
Penat is definitely yes ! but untuk malas tu kadang kadang je...
And how about benci ? Urm..maybe mula mule benci la kot..
Tapi sekarang disebabkan Secret Admirer tu, I da tak rasa benci nak keje kat situ..
Hahahah =) pervert !
Yes ! my nickname is pervert Kim =)
* Eunhyuk ssi, this is your fault *
Because of him, semangat tetibe membara pulak kan ?
Ouh god ! Kenape miang sangat aku ni ?
Jangan nak gatal sangat la Farieda Kim..
Tak ingat ke Mr. Hyukkie always watching you 24 hours non stop ?
Why 24 hours ? Daaaaaa...wearing Hyukkie phone strap kat Tesco ID card...
Buat buat lupe pulak kan ?
Ouh mian oppa ! I have an Alzheimer..and it's really a bad thing for a young person like me..
Btw, talking about secret admirer I ni..I dunno la what the special thing that I like on him..
Biase biase je dier tu..urmm..maybe because he's cute !
But my Hyukkie is more cute than him...
Hahahaha =) I'm pervert again..
Of course la kan ? when talking about Hyukkie automatic I akan jadi macam ni..
Aigoo ~ what Hyukkie have done to me ?
Syuhh syuuhh ! go away, Hyukkie !
But I think it's too late la nak halau Eun from my life ni..
Hyukkie ni da tersekat kat mane mane entah xD
Ouh okay ! macam biase..I da lupe the main topic that I should post...
Tengok tengok ! please stop talking about Hyukkie for a while !
I should talk about my secret admirer laa..
Well, si comel ni also a staff like me..but dier ni cashier..
And it's different from my job...so tade la selalu jumpe kan ?
But I think dier ni busy body skit la sebab everytime I tengah buat keje..
He always walking beside me..harus ke ?
Rase nye tesco tu da cukup besar kot..and why must dier lalu kat tempat I nak buat keje ?
Then, because of that..tak pepasal la kan I hari hari nampak muke dier tu...
And semalam he talked to me..
Secret Admirer : Eh, awak keje pagi ke petang ? * smiles *
Me : Huh ?!? keje petang..nape wak ? * blur *
Secret Admirer : Ouh ! ye ke ? saya rasa saya nampak awak pagi tadi...
Me : Nampak saya ? takde la.. * smiles *
Secret Admirer : Ye ke ? urmm..takpe la..bye bye ! nak balik da =)
Hai...budak tu rindu kat aku ke sampai I yang keje petang pon dier ingat I keje pagi ?
Maybe korang tertanye tanye kan sape name dier ?
Well, buat masa sekarang ni, I think I tak buleh bagitau lagi name dier..
Because I baru suke kat dier..but kalau nak cakap psal Hyukkie tu..
Sampai bile bile pon I on je xD Kan sayang kan ?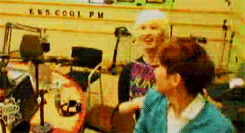 Okay ! Wookie da tak kasik I berangan lagi da..
I should go btw..need to study a bit sebab hari ni I ade two korean test..
Wish me luck ! and love you guys...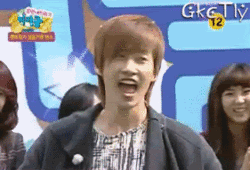 6 days to go...
---
You read ? Thank you very kamsa !
---